The NIFVS coordination team convenes a forum three times a year.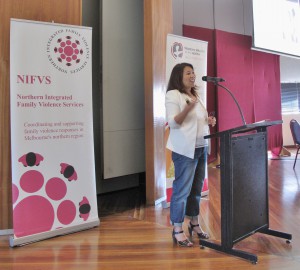 The forums focus on improving integration in specific areas identified in the NIFVS Regional Plan. They are open to anyone in Melbourne's northern metropolitan region who works towards women's and children's safety.
Strength in the Difference: a practice exchange forum for family services and family violence services –  Tuesday, 18 July 2017

Northern Integrated Family Violence Services invites you to join us to strengthen the links between family violence and family services.
Hear from the Department of Premier and Cabinet about the family violence reforms including Support and Safety Hubs
Understand the unique role of each service system and the specialisations they hold
Unpack how different services identify, assess and manage family violence risk
Explore how different services respond to the needs of children
Workers will hear from a panel of regional family violence and family services practitioners and work together to build a greater understanding of responses to family violence across each service system.
Places are limited. Register on Eventbrite
Forum summaries and presentations
Find summaries and presentation slides from the 2015-17 forums below:
To find out more about the NIFVS Forums, contact info@whin.org.au.