Week Without Violence (WWV) 2016
Last year's WWV was held between 17-21 October 2016. Over 48 events were facilitated throughout the northern region.
Background
The Week Without Violence (WWV) is a worldwide campaign that occurs in the third week of October, each year. The campaign aims to raise community awareness of family violence, encourage healing through art and strengthen local connections and relationships focused on the prevention of violence against women.
The Week Without Violence began in the USA in 1995.
Around the world, organisations plan a week-long series of community events promoting diverse approaches to raising awareness of family violence and working toward the elimination of violence against women.
The Clothesline Project (CLP)
WWV activities have been facilitated across the northern metropolitan region of Melbourne through local family violence networks since 1999. In the region, the WWV incorporates the Clothesline Project.
The concept is that each woman tells her story in her own unique way, using words and/or artwork to decorate her t-shirt. Once finished, she hangs it on a clothesline.
The original CLP was held in 1999, and saw 31 t-shirts displayed on a village green in Hyannis, MA, as part of an annual 'Take Back the Night' march and rally.
Currently, there are over 600 CLP in over 20 countries, in cities ranging from Beirut to Namibia to Tel Aviv to Brooklyn to Coburg.
Week Without Violence Toolkit
The campaign in the north is supported by the Week Without Violence Toolkit that provides facilitators with ideas for effective and consistent regional approaches to campaign events.
Week Without Violence 2015
In 2015, the sixteenth WWV campaign in the north ran from 19-23 October.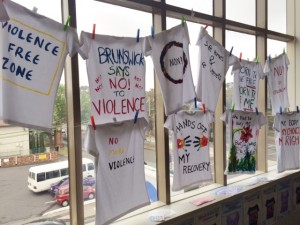 .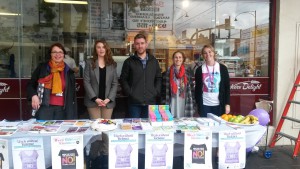 The campaign is coordinated through local family violence networks and resourced by Women's Health In the North.
Campaign Poster
Download the WWV Campaign Poster
.