A range of resources are available that can inform community members, victims and perpetrators about support services that are available in the northern metropolitan region.
Multi-language poster
This multi-language poster contains Help Card information in English, Arabic, Farsi, Mandarin, Punjabi, Turkish and Vietnamese. It can be displayed in waiting rooms, on the back of toilet doors, or anywhere it might benefit clients.
Family Violence Help Cards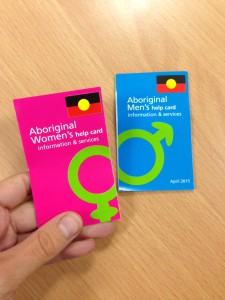 This business card-sized resource concertinas out to nine double-sided pages filled with information to help a woman who is experiencing family violence (women's help card) or a man who is perpetrating violence (men's help card). The help cards have been translated into 15 community languages. Aboriginal women's and men's cards are also available.
Note: Family Violence Help Cards are currently being phased out. Existing help cards will be distributed free of charge.
A number of organisations have changed their phone numbers. In normal circumstances the cards would be reviewed and reprinted, however as intake into the family violence service system will change significantly with the introduction of Support and Safety Hubs, this is not a viable approach.
The Aboriginal women's and men's cards remain up-to-date.
View this list of updated numbers and a factsheet for the phase out of the help cards.
An alternative to the help cards is the above multi-language poster for women. A multi-language men's poster will also be available from late April 2017.
Order Help Cards
Complete this form to order help cards for your organisation.
You can also order other printed copies of other resources.
Tip sheets
This tip sheet offers advice for how and when to offer help cards to your clients.
See the summary from Engaging Men in the North: a forum on using the Men's Help Cards for advice on offering help cards to men.
Display posters
Let clients know the cards are available by displaying this poster or this poster for Aboriginal Help Cards.
Display boxes
Boxes to display the cards in are also available. Watch this short video which shows how to put the boxes together.