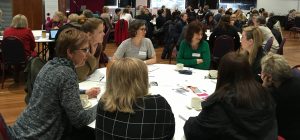 On 18 July 2017, 100 workers gained a greater understanding of family services and family violence services responses to violence. Participants heard from Family Safety Victoria about how family violence reforms will enhance responses to women, children and perpetrators. A panel of practitioners highlighted the specialisations and frameworks of each sector and participants shared their practice wisdom.
View a summary of the forum here.
View the presentations from the day from NIFVS and from Family Safety Victoria.