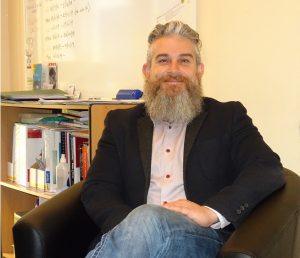 Craig Caple, Team Leader Generalist Counselling at Sunbury Community Health, describes his 10 years working in Men's Behaviour Change (MBC) groups as exhilarating. He says he relishes the 'opportunity to work alongside men to make women and children safe.' His belief in the need for men to take responsibility for their attitudes and behaviour towards women is the foundation for his work.
Sometimes I feel embarrassed to be a man. We should feel embarrassed. We should challenge men's behaviour.
About the groups
The MBC groups run at Sunbury Community Health have a set format and are closed for duration of the program. Recently the groups have increased from 12 to 20 weeks in line with changes to the Men's Behaviour Change Program (MBCP) minimum standards.
Any male over 18 is eligible to attend, although some applicants may be deemed inappropriate for a number of reasons such as the negative impact they might have on the group process. Those men will be offered alternative options, such as individual work. Craig reports that these days, more men are attending who have been mandated by court, and this has changed the nature of the work.
Readiness to change
Craig explains that the strategies he utilises with participants depends on men's readiness to change. Most men who have been mandated, are in a pre-contemplation phase of change and will tend to blame others (e.g. their partner or a statutory authority) for having to attend the group. He says that shifting that blaming attitude can be very difficult. The work focuses on them coming to terms with why they are being made to attend, with questions like, 'What would your partner or Child Protection say about why you are here?'
If men voluntarily attend the group, they are more likely to accept being challenged about their attitudes or having discrepancies between their behaviour and attitudes pointed out. Craig explains that partnering with men to change their behaviour is critical, by saying for example, 'What could we do to make women and children safe?'
Women's voices and male privilege
It is well recognised that perpetrators minimise their behaviour, for instance a perpetrator saying he and his partner had a 'little bit of a disagreement'. Craig teases out these statements by asking who did what, and exploring how the man's partner might describe the situation.
Through videos, case studies and handouts, the facilitators ensure that women's voices are brought into the room. In addition, Craig explains that partner contact is 'the cornerstone of the work because self-reporting is flawed. Partner reports help to provide information that men might not disclose.'
The power of the group is in encouraging men, who are further along in their understanding of male privilege and the impact on their behaviour on women and children, to influence others with their reflections. Craig and co-facilitator Joy Fawcus also role model respectful relationships, with each other and with their interactions with group members.
Outcomes
Craig says, 'Success depends on so many things. The nature of men's violence and men's willingness to recognise and be confronted by that. It depends on the stage of change a man presents with.'
Often men might make some behavioural changes and on the surface it may look like they are changing, but 'beneath the stump the roots are still there'. Craig estimates that about one third of the men who attend a MBCP make some lasting changes. For lasting change to occur, 'that needs more than men's behaviour to shift, it also requires an attitudinal shift.'