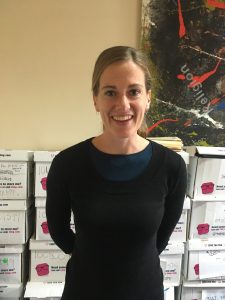 Ella Crotty began work at Fitzroy Legal Service (FLS) as a trainee lawyer in 2013. As Senior Lawyer Family Law and Family Violence she is an expert in both systems. Ella was filmed presenting at a NIFVS Forum in November 2017 on 'The Intersection between Family Law and the Intervention Order System'.
Ella is motivated by the way her role can empower people through understanding the law. She also revels in positive outcomes at court.
'Knowledge is power and preparation is always power.'
Review of the Family Law System
The Australian Law Reform Commission (ALRC) is currently reviewing the family law system with the goal of ensuring it effectively addresses family violence and child abuse, and meets the contemporary needs of families.
Ella knows all too well the barriers of the current family law system: it is hard to navigate; people experience long delays; and the system is 'mystifying'. Another issue is that women and children experience a lack of agency.
'The family law system is intrinsically judicial, adversarial, slow and inflexible. [1]'
Ella is excited about the review and is particularly pleased about the focus of the review being on women and children's safety.
Ella co-wrote the FLS and Darebin Community Legal Centre's (DCLC) submission to the ALRC family law system review.
The main recommendations were:
Implement Families Hubs
Do more to keep families out of court (e.g. lawyer assisted mediation)
Give children more agency.
Proposed Families Hubs
The Families Hubs, proposed in the ALRC Discussion paper, would have services including: legal assistance, specialist family violence (for men and women), family dispute resolution, therapeutic, financial counselling, housing assistance, health, children's contact and parenting support or education.
Ella explains the FLS and DCLC submission advocated for a model similar to the Neighbourhood Justice Centre in Collingwood where court, dispute resolution and support services are all based together; however, the proposed Families Hubs does not include a court. If this remains the case, Ella advised that it would be critical for the Families Hubs to have strong links to the court.
Keep families out of court through lawyer-assisted mediation
Ella explains that 'family law proceedings are long, expensive and emotionally draining. In family law matters, negotiating an agreement can lead to a better outcome than a judge's decision'.
The FLS and DCLC submission argued that formal court processes should be reorientated to focus on mediation, with court as a last resort. Ella stated that there is currently insufficient affordable mediation available.
Ella advocates for lawyer-assisted mediation. She has represented women in family violence situations in many mediations and states that this has led to better outcomes than going to court.
Involving children
'The system can improve the way children are involved. At present children are not given any agency in a way that feels comfortable to them,' Ella explains.
Ella is of the view that mediation services at Families Hubs would have more time to build rapport with children than the current family court report model. Ella believes this would lead to better outcomes for children.
The ALRC will deliver their report on the Family Law System to the Attorney-General on 31 March 2019.

[1] Darebin Community Legal Centre & Fitzroy Legal Service (2018), Submission to ALRC Family Law Review. Melbourne. p.3