Uncle Phil Cooper has retired as Co-Chair of the North Metropolitan Indigenous Family Violence Regional Action Group (NMIFVRAG).
Uncle Phil has been Co-Chair since the NMIFVRAG's inception. He has played an active role in strengthening connections with mainstream services through the NIFVS Partnership including playing a lead role in the review of the Aboriginal Family Violence Help Cards.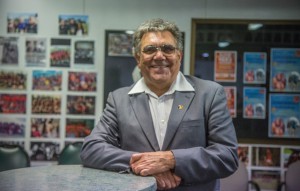 Uncle Phil's contribution as the Co-Chair has been instrumental in developing an authentic community led approach to strengthening families and service provision, in order to minimise family violence.
He will remain working with VACSAL and will continue building close relationships between the Aboriginal Community and mainstream services, including Victoria Police through the Darebin Koori Police Protocols.
We thank Uncle Phil for his enormous, passionate contribution to the NMIFVRAG and his invaluable leadership.
Alfie Bamblett  is the new male Co-Chair, joining Linda Bamblett, the female NMIFVRAG Co-Chair. Alfie also sits on the NIFVS Regional Integration Committee encouraging strong links between mainstream and Aboriginal Controlled Organisations.