The Week Without Violence (WWV) is an annual campaign during the third week of October to end violence against women. This year the WWV will be held between 18-24 October 2021.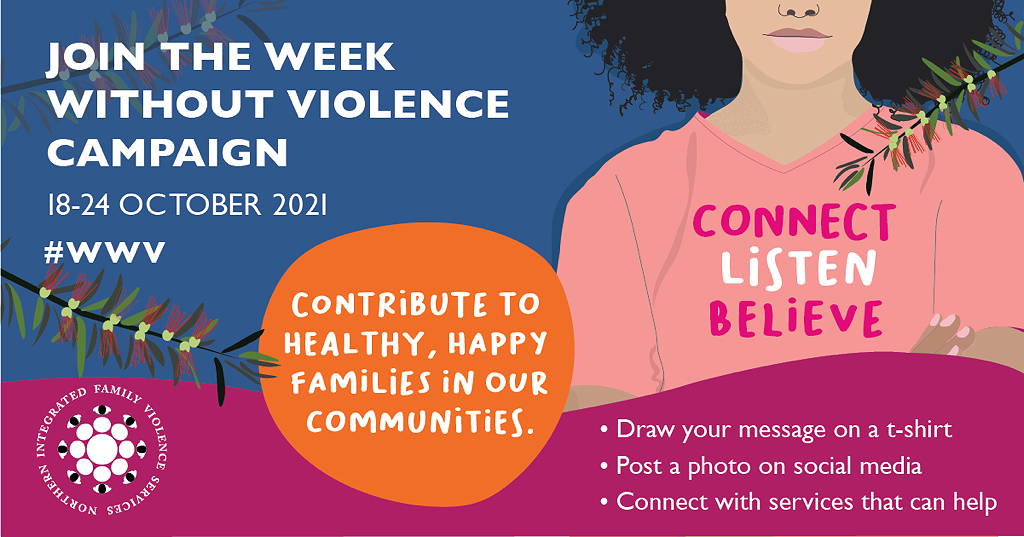 Join the Week Without Violence Campaign
This year's theme is 'Connect, Listen, Believe: Contribute to healthy, happy families in our communities'.
Campaign messages are available in English, Arabic, Chinese, Farsi, Hindi, Punjabi, Turkish and Vietnamese.
Download the social media tiles.
Community Members
Professionals and Volunteers
Every year hundreds of people across the NMR mark the WWV by painting T-shirts. The Clothesline Project concept is simple: each participant expresses their feelings about family violence, on a T-shirt. The T-shirt then hangs on a virtual or real clothesline displayed by organisations or in public spaces throughout the region.
                                                                              Image by Elizabeth Gray
Messages to Share with your T-shirt on Social Media
This is the Week Without Violence. Together we can end family violence.
Join the Week Without Violence campaign and contribute to healthy, happy families in our communities.
I've joined the Week Without Violence campaign. Everyone deserves to feel safe and respected.
During the Week Without Violence, it is a reminder to connect, listen, and believe people who talk about their experience of family violence.
If you or someone you know is experiencing family violence, help is available. Contact Safe Steps 24/7 on 1800 015 188. Call 000 if you are in immediate danger.
When you share these messages on social media, add this hashtag: #WWV and link to www.nifvs.org.au/event-directory/week-without-violence/.
You can also link to the NIFVS family violence posters, so people experiencing family violence know where to go to get help.
20th Anniversary WWV Film
View the 20th Anniversary Week Without Violence film, created in 2019 to celebrate the history in the region.