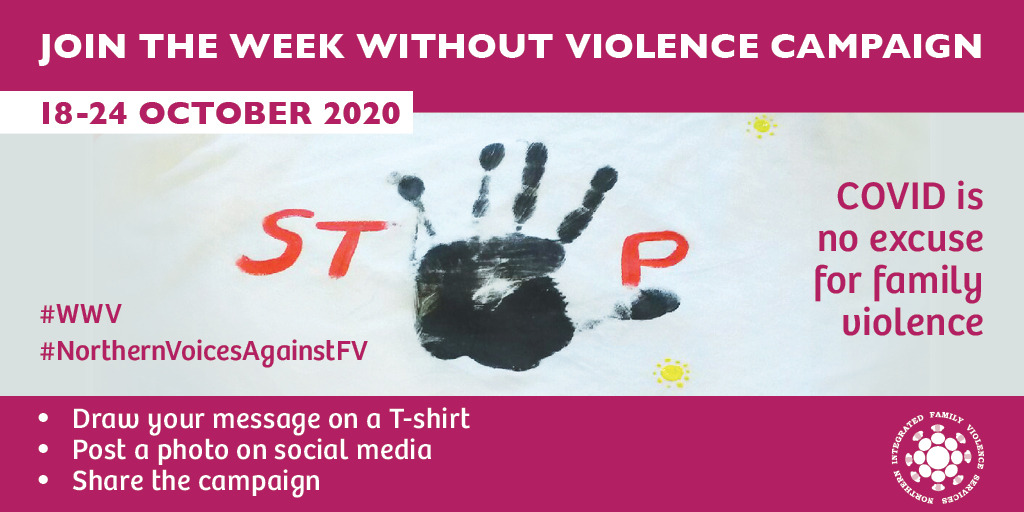 As a community, we stand united with victim survivors of family violence.
The Week Without Violence (WWV) is an annual campaign to end violence against women.
Since 1999, the northern metropolitan region (NMR) has marked the week, primarily through the Clothesline Project, where every year, hundreds of people paint and display T-shirts to raise awareness about family violence.
Join the Virtual Campaign
Draw your Message on a T-shirt:
Facilitate a virtual group session with service users to write, draw or paint a message against family violence on a T-shirt. Alternatively service users may like to do this alone.
Hold a virtual T-shirt drawing session during a team meeting and take a screenshot to share.
Create a T-shirt and consider sharing, or curating an online collection, with colleagues.
Use your own T-shirt or download a paper T-shirt template.
Get inspired about what to draw on a T-shirt.
Post a Photo on Social Media:
Upload photos of T-shirts to organisational social media and websites.
Share photos of T-shirts on your own social media.
Share the Campaign:
Promote the campaign via organisational websites, social media and newsletters using the social media messages, tiles and hashtags. #WWV #NorthernVoicesAgainstFV
Encourage colleagues, neighbours and friends to get involved.
Consider taking the campaign offline and sharing key messages and T-shirts on your front fence or other unrestricted places in your community.
Share photos of T-shirts with the NIFVS Team at info@whin.org.au for a region-wide promotion on social media and through the NIFVS eNews and website.
20th Anniversary WWV Film
View the 20th Anniversary Week Without Violence film, created in 2019 to celebrate the history in the region.