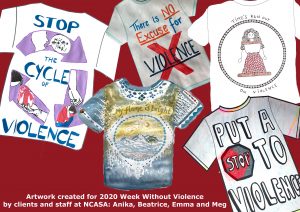 The Week Without Violence (WWV) is an annual campaign during the third week of October to end violence against women.
Since 1999, the northern metropolitan region (NMR) has marked the week, primarily through the Clothesline Project, where every year, hundreds of people paint and display T-shirts to raise awareness about family violence.
Due to COVID-19, the campaign went online in October 2020. The community stood united against family violence with victim survivors and more than 30 organisations participated in the social media campaign to create a virtual Clothesline with messages to end family violence.
The NIFVS Team were also interviewed about the WWV for the 3KND Kool 'N' Deadly Standing Strong Together Radio Program.
Every year hundreds of people across the NMR mark the WWV by painting T-shirts. The Clothesline Project concept is simple: each participant expresses their feelings about family violence, on a T-shirt. The T-shirt then hangs on a virtual or real clothesline displayed by organisations or in public spaces throughout the region.
                                                                              Image by Elizabeth Gray
Key Messages
During lockdown there has been an increase in the frequency and severity of violence against women in Victoria.
Family violence is serious, prevalent and preventable.
Family violence is a crime that is overwhelmingly perpetrated by men against women and children. It is both a cause and consequence of gender inequality.
1 in 3 Australian women over the age of 15 has experienced physical or sexual violence and/or emotional abuse by an intimate partner.
Family violence takes a profound and long-term toll on women and children's health and wellbeing, on families and communities, and on society as a whole.
What does a campaign involve?
How: Become a campaign facilitator and host an activity.
What: Organise an activity in your organisation or community.
Where: Find further information about approaches in Group Settings and Display Settings.
20th Anniversary WWV Film
View the 20th Anniversary Week Without Violence film, created in 2019 to celebrate the history in the region.